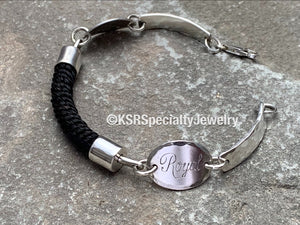 This horse hair bracelet is made to order with tail hair from your horse.  
The hair sections of this bracelet are woven around a heavy gauge sterling wire so the sections hold their shape.  Hair is woven in a tight heirloom weave. 
This bracelet features a center horse hair section and sterling silver engraved plate(s) on the side.  The engraved design will be customized for you with names, dates or other sentiments.  Both sides of the plates can be engraved and many different border designs are available as well as other decorative embellishments.  
Standard length is 7 3/4" which fits most adult women, can be longer or shorter if needed.
Please allow 4-5 weeks for delivery.
Note: Karen will contact you upon receiving order confirmation to give instructions on how much hair is needed, how to prepare the hair and where to send it.  Any other options or personalization details will also be discussed at that time.  Any unused hair will be sent back to you with the completed bracelet.